Now that spring is right around the corner; you may be getting anxious to get your landscaping projects started sooner rather than later! One of the most common questions we get this time of year is – "when will topsoil be available?" and "why is it not ready yet?"
When Will Topsoil Be Ready in Ottawa?
Typically our topsoil is ready to be delivered after the middle of April. The reason why our topsoil is not available earlier is due to the weather in Ottawa. Sometimes we even get snow in April!
Whether you choose our Screened Topsoil or our Greely's Topdressing Soil, Greely Sand & Gravel's topsoil is an entirely natural product. We never mix our topsoil with any synthetic compound or preservative. This means that the product will freeze when the weather is cold, just like the ground.
Because of the large quantity of topsoil we move every year, the product is generally stored and screened outside. These factors make the process of preparing topsoil for delivery extremely weather dependent.
What Makes Greely's Topsoil So Great?
At Greely Sand & Gravel, we care about providing the best quality topsoil to our customers every time they buy from us, at any time of the year. To achieve a top-quality product, we never rush the process of preparing topsoil so that it is in excellent, usable condition when delivered. This means that we wait for our topsoil to defrost before screening it.
The screening process is key, as it removes rocks, sticks, weeds, and anything else that may affect the quality and consistency of our soil. If the soil is still frozen, it forms clumps and cannot pass properly through the screener. Waiting for the soil to defrost adequately in the spring also allows us to ensure that the moisture levels in the soil are appropriate for delivery and end-use. No one wants to end up with a pile of frozen mud at their home!
We appreciate our customers' patience as we take the time to ensure that our topsoil is perfectly prepared for your project. We understand that it can be tempting to rush the process, but after decades of producing quality topsoil, we guarantee it is worth the wait!
If you want to learn more about what makes Greely's topsoil so great, read our article 10 Great Reasons to Choose Greely's Topdressing Soil and learn why it's been the best Ottawa topsoil for over 40 years!
Order Your Topsoil & Other Landscaping Needs Online
In the meantime, you can always reserve your spot now by placing an order for topsoil delivery through our convenient online store. While you're planning your order, this is also a great time to ensure that you have everything else you need for your project. Will you need grass seed or sod? Are there tools that you will require to complete the work? Perhaps you want to consider adding a layer of mulch to your flowerbed after you have laid your soil? At Greely Sand & Gravel, we have the products and the expertise to get you ready for this year's landscaping season.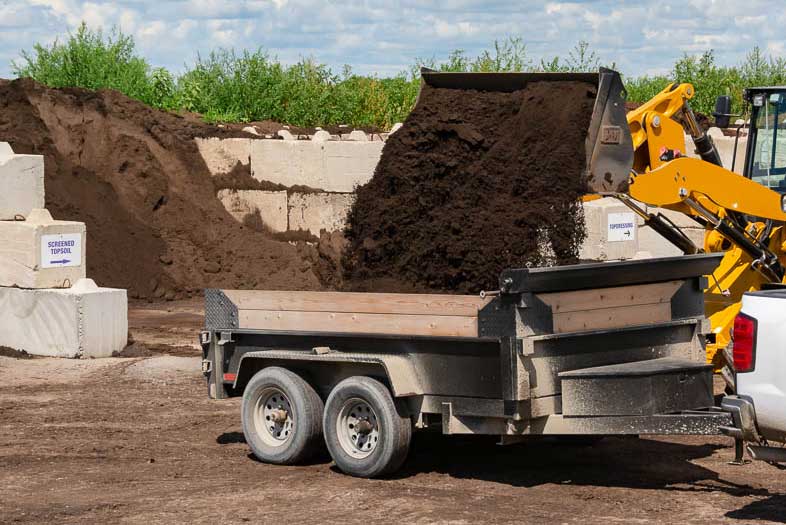 If you have further questions regarding topsoil preparation and availability, one of our knowledgeable team members would be happy to assist you!