Hours of Operation
Main Office + South-East Landscape Depot
Monday to Friday: 7:00 am – 4:00 pm
(Note: residential order desk opens at 8:00 am)
Saturday & Sunday: Closed
The list of products available at our West End landscape depot include:
Soil & Compost
Topdressing Soil
Screened Topsoil
Gro-Max Soil
Mushroom Compost
Mulch
Composted Pine Mulch
Shredded Pine Mulch
Shredded Cedar Mulch
Shredded Red Cedar Mulch
Shredded Golden Cedar Mulch
Red Enviromulch
Enhanced Black Bark Mulch
Landscapers' Cedar Mulch
Cedar Weave Mulch
Decorative Stone & River Rock
3/8″-5/8″ Riverwash Stone
7/8″-1″ Riverwash Stone
1 1/2″ Riverwash Stone
2″-5″ Riverwash Stone
1″-4″ Renfrew River Rock
Sand
Washed Brick Sand
Washed Concrete Sand
Hydro Sand
Ottawa Playground Sand
Crushed & Clear Stone
Stone Dust
7/8″ Crushed Stone
3/8″ Clear Stone
7/8″ Clear Stone
Commercial Aggregates & Soil
Monday to Friday: 7:00 am – 4:00 pm
Saturday & Sunday: Closed
Call Us
Telephone: 613-821-3003
Toll-free: 1-800-361-2406
Fax: 613-821-4069
Our Locations
Main Office + South-East Landscape Depot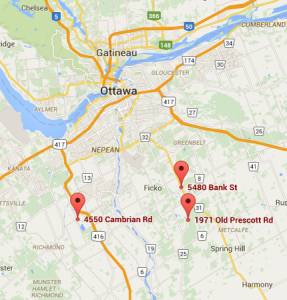 1971 Old Prescott Road
Greely, Ontario, Canada, K4P 1N6
[Get Directions]
West-End Landscape Depot – Closed for the season.  Will reopen spring 2018
4550 Cambrian Rd. (Near Moodie Dr. & Trail Rd.)
Nepean, Ontario, Canada, K2J 4S9
[Get Directions]
Commercial Aggregates & Soil 
5480 Bank Street
Ottawa, Ontario, Canada, K1X 1G9
[Get Directions]
Contact by Email
If you have any questions, comments, or concerns we would love to hear from you. Feel free to drop us a line!
Tour Our Facility
Care to take an up close and personal tour of our depot and offices at Old Prescott Road?