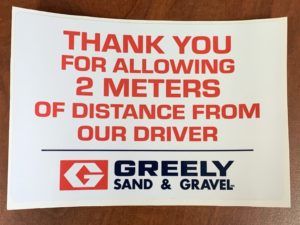 To all our valued Greely Sand & Gravel customers
Over the last few months, we at Greely Sand & Gravel have been continuing to closely monitor the COVID-19 situation. Like most Canadians, this issue is at the top of our minds, as we become more aware of concerns at both the global and at the local level. We are reaching out to you to let you know personally that our family and team share the same concerns and are here for you.
We have no greater priority than the health and well-being of our employees and customers, many of whom are also our family, friends and neighbours. We are committed to everyone's safety and will continue to take all appropriate measures. Both our South-East and West-End Depots are open to the public for pick up, should you request it, we are continuing to offer no contact, touchless delivery and observing additional touchless protocols. If conversation is required at the time of a delivery, our team is equipped with masks and we ask that both our clients and staff adhere to social distancing protocols for their safety and well-being. We will continue doing our part to contain the spread of the virus.
Each of us at Greely are observing enhanced hygiene and sanitation protocols, including additional cleaning of equipment and workspaces, more frequent hand washing and use of hand sanitizer. Our employees are also being encouraged to remain at home and self-isolate should they feel unwell. We will also provide our team with the most up to date information to help them remain healthy.
We will continue to actively monitor the situation and follow the advice of the Public Health Agency. If there are any changes to our schedule or services, we will immediately communicate this information to you. We would also like to take this opportunity to thank you for your continued support. Our community will face challenges during this period of time, but we will also pull together to see one another through it.
As the situation evolves, you can count on our family to make necessary changes so that we can continue to uphold the highest standards, ensuring a beneficial and safe environment for both employees and customers.
If we can help in any way throughout these uncertain times, please do not hesitate to reach out. We can be easily reached at (613) 821-3003, or via email. We take comfort in knowing we are in the great company of our exceptional team, and loyal customers. We stand ready to serve and thank you for being part of the Greely Sand & Gravel family.
The Pyper Family