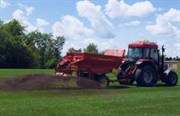 Greely Sand & Gravel Inc. is proud to introduce another fine product that will help rejuvenate well-used sports fields, such as soccer fields, football fields, and ultimate frisbee fields.
This engineered soil is a free flowing sandy based soil where Category A compost is mixed and screened through a 5 mm screen to allow for easy spreading with a topdresser.
Our product has been used throughout the City of Ottawa on many fields and has great results in a short time.
Hints:
Apply mix after the playing season to a maximum depth of 1/4″ with a topdresser for a more even application.
Most important not to overspread! As the saying goes "less is more."
Always aerate fields first before applying mix.
Please note that Sports Field Topdressing Soil is not available online. For information on how to order, contact Greely Sand & Gravel Inc. today.