Pure Ottawa Rock Salt is available from Greely Sand & Gravel and is ideal for contractors.
2017-2018 Winter Season:
$135 per cubic yard in bulk
$170 per cubic yard bag
Price is based on a pickup load at our landscape depot at 1971 Old Prescott Road in Greely.
Note: Delivery is available for bulk loads.  Spreader service also available.  Inquire at 613-821-3003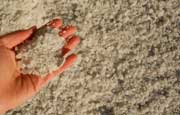 Try Rock Salt in a half yard or one cubic yard bag! Clean and easy to use.