Greely Sand & Gravel has offered snow and ice management services in the Ottawa area to commercial, municipal, and federal buildings for almost 40 years! We provide a complete snow and ice management package for roads, parking lots, and sidewalks, including
Greely Sand & Gravel owns a licensed snow dump, allowing us to plow, remove, and dispose of snow from commercial properties. Our domes are well stocked with rock salt, Thawrox (treated salt), salt chip mix, and salt sand mix. Greely Sand & Gravel has an extensive fleet of loaders, front-mounted snowblowers, snowplows, and spreaders, as well as a fleet of trucks and trailers.
If you are looking for a reputable and reliable snow and ice manager for your commercial property, contact Greely Sand & Gravel today!
Greely Sand & Gravel maintains 24/7 surveillance by visiting sites to monitor snow and ice conditions, allowing us to respond quickly in case of a weather emergency. We have GPS tracking on all our equipment to create accurate logs of the dates and times our equipment was on site. We use the KSMI Weather reporting service which provides us with up to the minute information on weather conditions. Greely Sand & Gravel maintains Secret level security clearance and is eligible to undertake snow and ice management contracts at government buildings and other secured facilities.
At Greely Sand & Gravel, we pride ourselves on offering professional services to the properties we manage throughout the demanding winter months. We recognize the danger that snow and ice pose to motorists and pedestrians and we do our best to alleviate all risks by employing state-of-the-art snow and ice management services for commercial properties.
Greely Sand & Gravel seeks to protect the environment by employing Smart Salt practices to diminish the amount of salt needed to remove snow and ice. Our Thawrox salt is treated with environmentally friendly materials that act quickly to melt snow and ice, reducing the amount of salt needed to clear roads, parking lots, and sidewalks.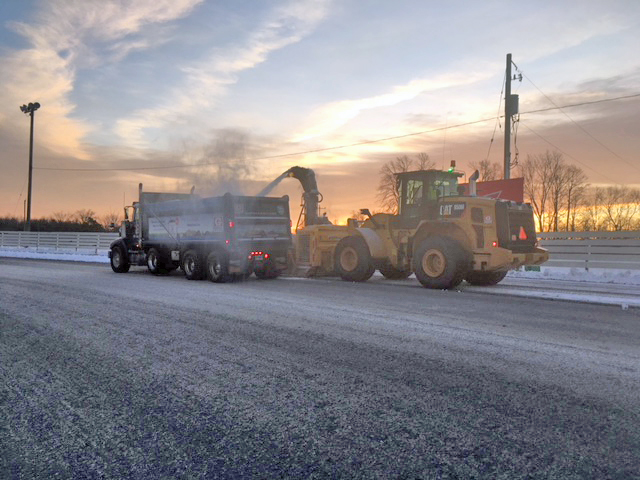 "We have been working with Greely Sand and Gravel since our opening over 5 years ago which started with a full building during a snow storm. Greely delivered for us then and has continued to do so since. Our site can cause some logistical issues given we have irregular hours and truly need exceptional 24/7 service. Greely's personnel and equipment has always been beyond reproach. I could not give a higher level of satisfaction or recommendation, they have become part of our EY Centre family."
Kevin McCrann
President, EY Centre
""W.O. Stinson and Son Ltd. has used Greely Sand & Gravel since the mid 1980's for all our snow removal at our sites. Greely understands our needs and keeps our gas bars, offices and yards clear from snow and ice during and after snow and ice storms. They make sure that when employees start arriving to work at 5 am that the office parking lot is cleared and safe for all our employees to come to work.
To top off the great customer service, I always hear from Brent Pyper early the next morning concerned about how everything went, and is there anything more required. We highly recommend Greely sand & Gravel for any project."
Eric Stinson
President/Owner, W.O. Stinson and Son Ltd.