As the snow starts to melt, it is time to look around your yard and figure out what areas may need a little TLC this spring and summer. One thing to take special note of is the condition of your mulch. Whether used in flower beds, as a border around your lawn or driveway or to accent a tree or bush, mulch sustains a certain amount of weather-related wear and tear each year. Spring is a great time to top up your mulch and ensure that it looks as fresh and vibrant as the day it was installed.
Why Use Mulch?
Our mulches at Greely Sand & Gravel are natural products made from high-quality wood and coloured with biodegradable dyes. We are proud to offer our customers a wide array of colours and several different textures to ensure that you can find the perfect mulch for your space. The advantages of adding mulch to your flower beds include protecting soil from erosion, adding visual appeal, controlling weed growth, deterring pests, increasing moisture retention, and even replenishing nutrients in the soil through organic matter. Mulch is more than just an added pop of colour – it can be a vital component of a healthy and vibrant flower bed!
Because mulch is a natural product, it is affected by the changing seasons and weather conditions. Long hours of sunlight can cause coloured mulches to fade, while heavy rainfall can wash away a layer of mulch. These are perfectly normal occurrences and one of the main reasons we encourage customers to consider replenishing their mulch each year. When you first install mulch, we suggest laying a generous 3" layer to ensure complete coverage in your space. A 1-2" layer is generally sufficient when adding additional mulch.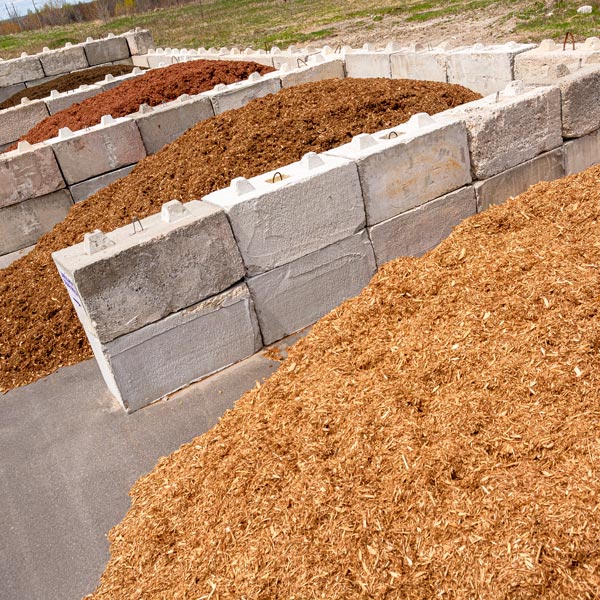 How to Top-Up Mulch
When topping up your mulch, it is a good idea to gently rake the existing mulch first. Doing so can break up any clumps that might have formed and can rotate faded pieces so that more vibrant colour is restored. This is also an excellent time to remove any weeds that may have sprung up through the mulch, and any sticks, stones, or debris that have fallen into the area. Once this is done, you can proceed with adding a 1" layer of new mulch. The easiest way to do this is to spread the mulch gently in the area by shaking it off a shovel. Following this process every year or every other year should ensure that your mulch stays looking fresh and vibrant.
If you are installing mulch in an area for the first time and want something that will require little maintenance, we suggest going with a natural coloured mulch rather than one that has been dyed. The dyes create rich, beautiful hues, but these mulches tend to have more noticeable fading in areas with high sun exposure. We recommend our Composted Pine Mulch for an aesthetically pleasing, lower maintenance option. This naturally deep brown product slowly decomposes into the soil over time, enriching it with organic matter and nutrients.
If you have questions about selecting a variety of mulch, installing it for the first time, or topping up an existing area, you can find lots of helpful information on our website. Once you decide which mulch you want, it is quick and easy to place your order for delivery using our online store. Still have questions? You can always pick up the phone and call us at 613-821-3003. If you want to see our premium selection of mulches before you buy, visit either of our landscape depots, we would be happy to give you a first-hand look at what we have to offer!