Stone has become an increasingly popular feature in landscape projects in recent years. Whether you are planning an interlock driveway or a walkway using pavers or a natural stone patio, the options for colours, textures, sizes, and shapes are nearly endless when it comes to stone! Once you have planned your design and chosen your product, proper installation is key to ensuring that your patio, driveway, or walkway will stay stable, beautiful, and safe for years to come. Greely Sand & Gravel is proud to be able to provide all the products needed to create beautiful stone landscape features, from stone dust to pavers to polymeric sand!
What is Polymeric Sand?
While most people are familiar with the concept of using crushed stone and stone dust to create a base for your interlock stones or pavers, not everyone is aware of the important role that polymeric sand plays in the finishing stages of these types of projects. Polymeric sand is a specially formulated mixture of graded sand and a high-performance polymer binding agent used to fill the grooves and gaps between patio stones and interlock. It is designed to be used with all joints between stones up to 4" wide. When properly installed, polymeric sand will remain stable and flexible in the most extreme weather conditions and freeze/thaw cycles.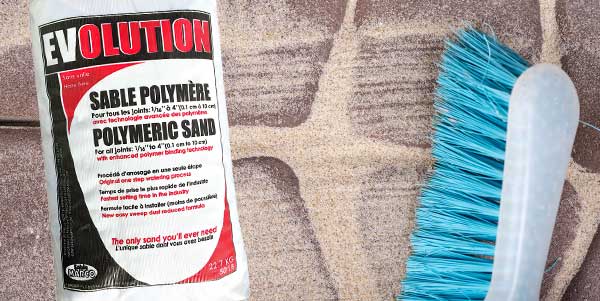 Benefits of Polymeric Sand
Polymeric sand offers many benefits that will increase the durability of your patio, walkway, or driveway and increase your project's lifespan once finished. Polymeric sand stabilizes the stones to prevent them from becoming loose or a tripping hazard. Polymeric sand is also very durable when properly set, making it a great addition to high-traffic areas such as walkways and driveways. Another reason that our customers love polymeric sand is that it helps prevent weed growth between stones or pavers. Once you have finished your beautiful interlock patio, the last thing you want is to see weeds popping up between the stones. Sealing the grooves between stones with polymeric sand gives less opportunity for weeds to take root and grow. This means less maintenance for you and more time to enjoy your beautiful new outdoor space.
Our polymeric sand is available for purchase and pick up at both of our conveniently located landscape depots. We are also excited to announce that this year we now have both black and white polymeric sand, in addition to our classic beige and gray options. Our goal is always to provide our customers with the best possible array of products to take their landscaping projects to the next level.
For detailed instructions on how to install polymeric sand, visit our Polymeric Sand page on our website. You can also find information here on how much polymeric sand you will need to cover the area of your project sufficiently. If you have more questions regarding polymeric sand or other landscaping products, please give us a call at 613-821-3003. Our knowledgeable team is committed to helping make your project a success!