Thinking of starting a new lawn from scratch and have questions about sod? It can be a daunting task to think of installing sod as a homeowner, but if you are well equipped beforehand with the right products and information, the process will be much more smooth and hassle-free! Not only does Greely Sand & Gravel sell premium locally-sourced Kentucky Bluegrass Sod and screened topsoil, but we also have answers to some of the most common questions we get from our customers about installing sod.
How do I calculate how much sod I will need?
Our sod is freshly cut daily in rolls that measure 2' x 5', so each strip covers 10 square feet of space. Find the area of your space by measuring the length and width in feet and multiplying them. The resulting number is how many square feet of sod you will need. If the area you need to cover is more of a triangular or circular shape, rather than a square or rectangle, use our helpful square footage calculator on the Sod page of our website to find out how much you will need. We always recommend purchasing at least a few extra rolls if you need to trim some to fit your specific space.
We sell sod by the skid or by the half skid. A full skid contains 70 rolls, enough to cover 700 square feet, while a half skid comes with 35 rolls, enough to cover 350 square feet.
How do I prepare the soil before laying my sod?
Having a good base is a crucial aspect of laying sod successfully. We recommend having a layer of fresh, high-quality soil, no less than 4" deep, spread in the area before you install your sod. Greely's Screened Topsoil is perfect for creating a structured base for your sod. If you would like step-by-step instructions on the process, please visit the Sod product page on our website.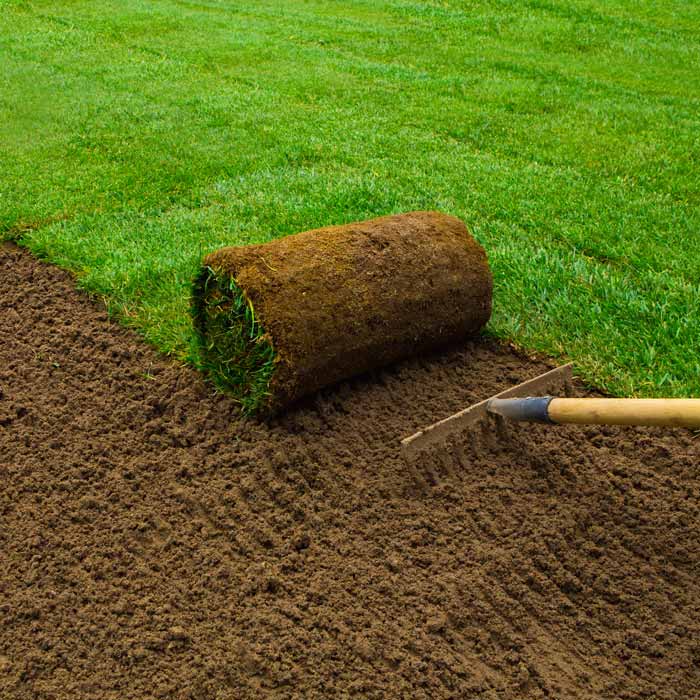 How quickly should I install the sod once it is delivered?
Sod should be installed the day it is delivered, so it is as fresh as possible. When deciding which day to have your sod delivered, try to plan for a time when you can spend most of the day working on the project. We always deliver sod as early in the day as possible to ensure it gets to our customers in the freshest possible state. Installing the sod quickly gives it less opportunity to dry out and will help preserve a healthy root system.
Should I fertilize before or after laying sod?
We recommend fertilizing before laying sod to spread the fertilizer directly in the soil and have access to the root system once the sod is laid.
How much and how often should I water my sod?
Frequent, generous watering is essential in the first few days and weeks after laying fresh sod. For the root system to take hold well in the soil and the grass to flourish, sod should be amply watered at least twice a day for at least a couple of weeks after installation. Consider installing a sprinkler system to make this task easier and to ensure that your sod receives frequent watering. Sod that does not receive enough water will not take root successfully and will wither quickly, especially in warm and sunny weather.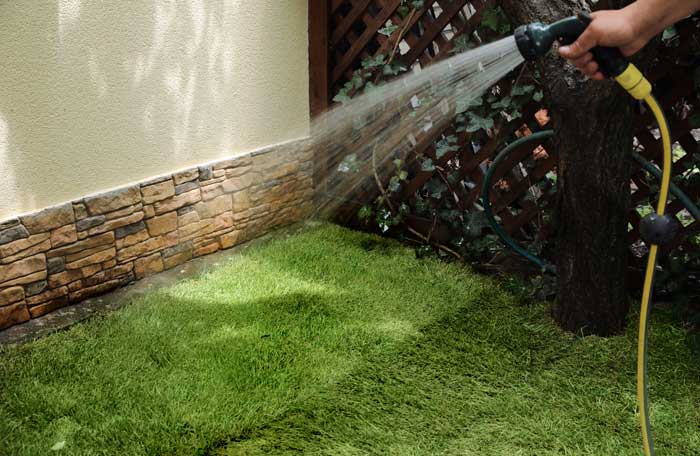 My lawn is quite large, do you offer any discounts on sod?
We do offer a multi-skid discount on sod! For the second and every additional full or half-skid purchased and delivered in the same order, we offer a $25 discount per skid. This also applies to Greely Gardening Bags delivered in the same order. Additionally, if you return the wooden skids to one of our landscape depots, you will receive $15 back for each skid returned. This also allows us to recycle the skids, resulting in less waste and taking the pressure off our customers when it comes to disposing of the skids.
Sod is typically ready for delivery in mid-May, depending on the weather. If you have questions, would like additional information, or would like to secure your spot for delivery once the sod is ready, please call our office at 613-821-3003. We look forward to helping you transform your lawn this year!
If you have questions about selecting a variety of mulch, installing it for the first time, or topping up an existing area, you can find lots of helpful information on our website. Once you decide which mulch you want, it is quick and easy to place your order for delivery using our online store. Still have questions? You can always pick up the phone and call us at 613-821-3003. If you want to see our premium selection of mulches before you buy, visit either of our landscape depots, we would be happy to give you a first-hand look at what we have to offer!