Mountain Grey Wall Stone is available in the following size:  12″ thick, 3-5 ft long & 2-3 ft wide
Applications: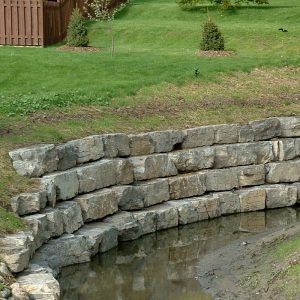 Perfect for retaining walls
Create unique rock benches [PDF]
Rugged textured appearance
Easily stackable stone
Equipment required for installation
also known as Armour Stone
Prices
$185.95 per metric tonne
Note:  each wall stone ranges from 0.75 metric tonnes up to 1 metric tonne.
Delivery prices vary.
We can install your retaining wall stone using our compact excavator CAT 320E LRR with a rotating grapple for fast and easy installation.  Watch our video!  Call 613-821-3003 for more information.
We recommend you come visit our landscape depot at 1971 Old Prescott Road to view our wide range of Mountain Grey Wall Stone on display.   Click here for directions.