Greely does it all…Soil, River Rock, Mulch, Sand, Stone & much more in our cubic yard bags and NEW 1/2 cubic yard bags. We've got you covered!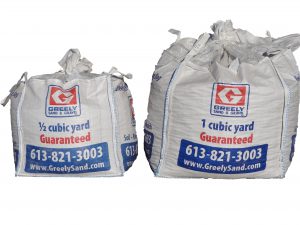 Greely's Gardening Bags save you the pain and inconvenience of carrying home bags of landscaping products. Simply use what you need, and reseal the bag to complete your landscaping project another day. Greely's Gardening Bags are clean and convenient!
100% Full Cubic Yard and 1/2 Cubic Yard, Guaranteed!
Our cubic yard bags are 3' X 3' X 3'. Yes, our bags provide a 100% full cubic yard guaranteed.
Our 1/2 cubic yard bags are 2.4′ X 2.4′ X 2.4. Yes, our bags provide a 100% full 1/2 cubic yard guaranteed.
In one cubic yard there are 765 liters. Just think, if you purchased a cubic yard at the store, you would need 27 store bags! That's a lot to carry and a lot of trips to the store…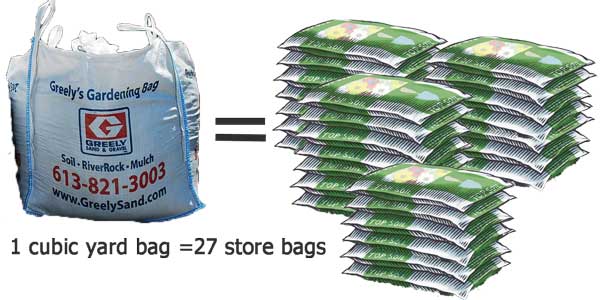 These bags are very convenient and allow you to order soil, mulch, river rock, sand, and crushed stone.
Yes. You can order as many bags as you want with different products in each bag. The maximum bags that can be delivered at one time on our flat deck truck is 10-12 bags. Multiple bag discounts will apply.
Yes, you can order online; however, online ordering is closed during the winter season.
If you are ordering your cubic yard bag online, you can choose your preferred delivery date.   If you order online or via telephone, delivery of cubic yard bags are 2 business days after the time of ordering.  
No, you do not need to be home to receive your Greely's Gardening Bag. You just need to
simply mark an "X"
on your driveway with chalk or masking/painter's tape where you want your
Greely's Gardening Bag(s) to be placed.
Keep in mind when marking your "X" on your driveway for a Gardening Bag delivery we need a space 4ft X 4ft. Also, our forklift requires 9 feet of clearance to access the location.  Be sure to look up and make sure there are no overhead wires or low lying trees where you marked your "X" on your driveway.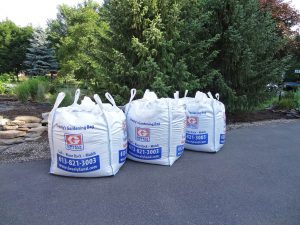 Unfortunately, we are not able to bring the bag into your backyard since we use a forklift that requires 9 feet of clearance and which requires a stable surface to drive on..  Typically bags are placed conveniently on your driveway.
We deliver our bags with a flat deck and forklift.  The forklift requires 9 feet width of clearance and a stable surface to drive on.
You can earn
5 AIR MILES® reward miles
when you purchase the delivery service of landscape materials on a flat deck truck (
see exclusions
). Our Greely's Gardening Bags are delivered by a flat deck truck with a forklift.
There are various options you can choose from.
Option 1:  You can keep the bag for personal use.  Some ideas include using the bag to cover your air conditioner over the winter months.  The bag is also great for storage, such as storing patio furniture.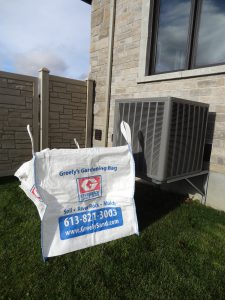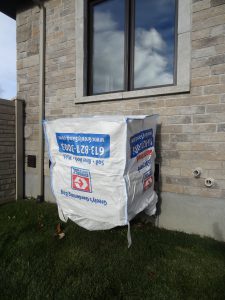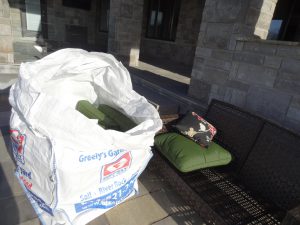 Option 2:  Choose to use our environmentally friendly DisposaBag Service.  This allows you to use your cubic yard bag to get rid of excavation material (old soil, sod, etc. that you dig out of your yard),  garden waste (leaves, branches, planting trimmings), or non-hazardous household waste.
Option 3: Bring the bag to one of our landscape depots to be recycled for you.