How will the cubic yard bag be delivered?
There are two ways we deliver the cubic yard bags.  The first option is with our tandem axle boom truck that has an articulated knuckle boom crane that lifts the cubic yard bags off the flat deck of the truck and places them on to your driveway. The crane can place the bags of sand and stone up to 15 feet away from the truck and bags of soil and mulch up to 20 feet away from the truck.  The truck will remain on the road.
Delivery by knuckle boom crane: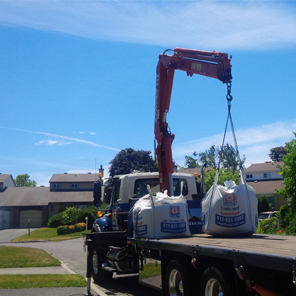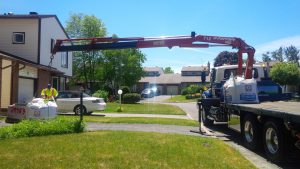 The other option for delivery is by our flat deck with a Moffett forklift. The Moffett requires 9 feet width of clearance and a stable surface to drive on.
Delivery by Moffett forklift: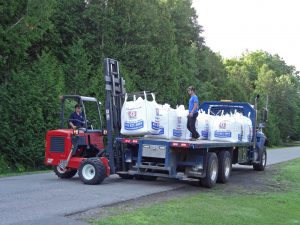 Note: If you are ordering online, you can mention in the comments your preferred delivery method – boom truck or Moffett.  Alternatively, you can mention your delivery method when ordering by telephone.  If you do not provide us with a delivery method, we will deliver using whatever method is available that day.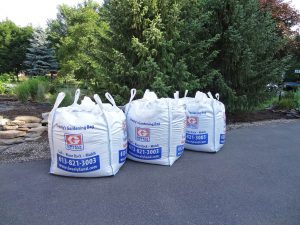 Order your cubic yard bags today!