Granite Boulders are distinctive stones, varying in size, and reddish in colour with white and black.
Applications: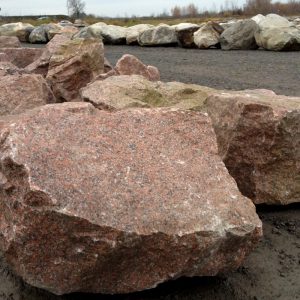 Prices
$399.00 per metric tonne
Note:  each boulder ranges from 1/2 metric tonne up to 1.5 metric tonnes.
Delivery to your driveway or front lawn by a boom truck is $150.00 per hour with a minimum 4 hour charge.
We recommend you come visit our landscape depot at 1971 Old Prescott Road to view our wide range of Granite Boulders on display.   Click here for directions.