Tandem Flusher / Water Truck
New to GS&G is a tandem flusher / water truck with a 4,000 gallon (18,000 litres) capacity.  The water truck is equipped with 4 nozzles for street cleaning, a 100 foot 1 1/2″ hose for manual work and 2 discharge nozzles at the rear for dust control or compaction. Just finished doing your landscaping project, why not give it a strong start by watering the freshly laid sod?
Our new flusher / water truck is environmentally friendly too!  It uses a hydraulic pump rather than the typical second engine configuration, which means reduced emissions.
Prices
| | |
| --- | --- |
| Per Hour | Minimum |
| $115.00 | 4 Hour |
Note: $30 fee for each load of water applies.
Ready to reserve yours? Give us a call at 613.821.3003 to book your job!
Ideal for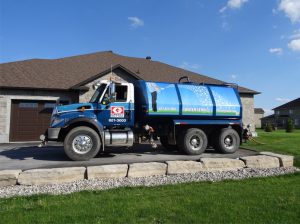 Construction jobs where close water supply is a problem
Dust control or compaction
Establishing new plantings and sod
Street cleaning