At Greely Sand & Gravel Inc., we offer a slinger service to help you get projects completed faster and with less labour. Our slinger truck is able to spread crushed sand and stone, soil, mulch, playground sand and some types of decorative stone quickly and efficiently. Our slinger service is ideal for spreading topsoil over an area for sodding, slinging mulch over a fence and playground sand into a playground area. The conveyor accurately places material up to 75 feet from the end of the truck, eliminating material handling and significantly reducing construction time.
We rent our slinger truck for landscape contractors, general contractors, property managers, municipalities, schools and even homeowners with a large project. We're based in Ottawa and provide our slinger service all across the Ottawa Valley including Pembroke, Arnprior, Carleton Place, Orleans Cumberland and Rockland. We also offer our slinger service throughout South Eastern Ontario, including Brockville, Smiths Falls, and Cornwall. Contact us for more information!
Slinger Service Rates
Per Hour

Minimum

$145.00 per soil to sling stone/sand

$145.00 per hour to sling soil

2 Hours

3 Hours
Float move is extra. Rental price includes a certified operator.
Call 613.821.3003 to inquire about availability or ask any questions you might have.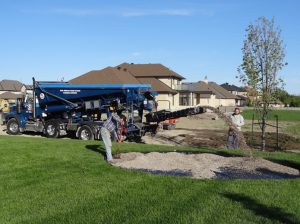 Greely's Equipment in Action!
Our Slinger Service is Ideal for Contractors and Homeowners
Hard to reach areas
Sloped areas
Playgrounds
Road Ditches
Basement foundations
Golf courses
Sports fields
Large landscaping projects
Major Customer Benefits of our Slinger Service
Save on labour costs
Faster job completion
Slings most materials, such as soil, gravel, stone, and mulch
Prevents damage to existing landscaped areas
Up to 75 ft from the truck
Our price includes an experienced and certified operator
Deal with a single company for your materials and slinger service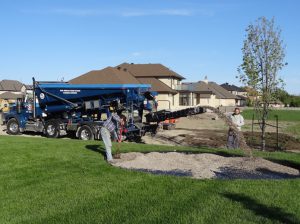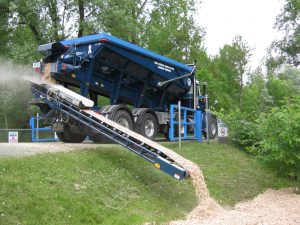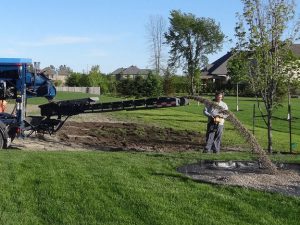 Ready to Rent or Have a Question?
If you're looking for slinger service, contact us today.
We're more than happy to answer any questions you may have.