Mini Roll Off Containers for Rent (Dumpsters)
Greely Sand & Gravel's mini roll-off containers are ideal for removing your excavation or leaf and yard waste. Our roll-off dumpsters for rent are available for three and seven-day periods. If you're looking to order a landscape product or aggregate, such as topsoil, sand or gravel, you can get the product delivered in the roll-off container (only one product per container). If you choose a Greely roll-off dumpster as your delivery method, you receive a 50% discount on the delivery cost for the delivered product. With product delivery and excavation or leaf + yard waste removal, this is one of Ottawa's best options to start your landscape or construction project. Our roll-off containers for rent are 10ft x 8ft x 42″ high, with a maximum capacity of 8 metric tonnes. 
These containers are ideal for homeowners, landscapers, contractors and builders. We're based in Ottawa and provide mini roll-off container rentals all across Ottawa and the Valley including Carleton Place, Orleans, Nepean, Gloucester, Richmond, Barrhaven, Manotick and more. 
Rental Cost
| | |
| --- | --- |
| Roll-Off Container | Rates |
| Minimum 3-Day Rental | $205.00 |
| Weekly Rental | $295.00 |
| Per Additional Day | $50.00 |
| Dump Fee – Excavation Material | $10.00 / metric tonne |
| Dump Fee – Leaf & Yard Waste | $60.00 / metric tonne |
Prices are effective April 1, 2016. All applicable taxes are extra.
Call 613.821.3003 to inquire about availability or ask any questions you might have.

DUMP & RETURN (D&R):
A flat rate of $145.00 (+HST) per trip for D&R, plus the cost of dumping.
Prices include delivery and pick up.
Dump fees are extra (a minimum charge of $50 applies).
If the container is mixed, you will be charged the higher cost of dump fee.
Household garbage, construction debris and asphalt are not permitted in the container ($110 fee / metric tonne).
Roll-Off Containers Ideal for
Yard & Garden Waste
Excavation Waste
Product Delivery
Tight Areas
Small and Mid-Sized Landscape Projects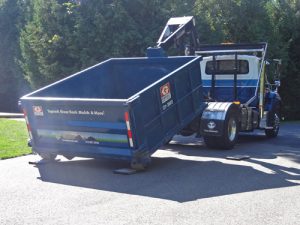 Our Mini Roll-Off Container Rental Process
We require someone to be at the delivery location and know the placement location of the container.
If you ordered a landscaping product in the container, we will dump the product and then place the empty mini-roll off container.
The containers have back doors that open to allow easy access when filling.
Containers may only be filled to the maximum levels indicated on the container.
When you are finished, call our main office at 613-821-3003 to arrange pickup and cancel any further daily charges.
NOTE: If you want the container placed on the street in front of your home rather than on your driveway, you will need to arrange for a temporary encroachment permit through the City of Ottawa. The driver will not place the container on City streets until you provide the driver with the proper permit. For more information on temporary encroachment permits, please visit the City of Ottawa website or dial 3-1-1.
What you can put in your Mini Roll-Off Container?
Item

Include?

Leaf & Yard Waste
Leaves
YES
Grass Clippings
YES
Branches
YES
Plant & Flower Clippings
YES
Plastic Bags
NO
Stumps
NO
Hazardous or Chemical Waste
NO
Garbage
NO
Excavation Material
Soil
YES
Sand
YES
Stone
YES
Concrete
YES
Sod
YES
Steel Rebar
NO
Hazardous or Chemical Waste
NO
Asphalt
NO
Garbage
NO
Ready to Rent or Have a Question?
If you're looking for a mini roll-off container or dumpster, contact us today.
We're also more than happy to answer any questions you many have.