At Greely Sand & Gravel Inc. Inc, we have excavators for rent. Our 320 CAT excavator rental is our most popular and comes with a Rototilt® Indexator attachment. The Rototilt® helps you use this excavator for grading, backfilling, digging basements and armor stone wall work, all with just one machine. Most importantly, with the Rototilt® attachment, you'll be able to do most jobs faster and with less labour! With the Rototilt®, you can rotate the attachments on this excavator with speed and precision. You can work in tight spaces where other excavators can't. Our Rototilt® equipped 320 CAT excavator also contributes to a safer construction site.
Our CAT 320 excavator has a 153 hp motor, T-4 Environmentally Friendly, an operating weight of 56,440 lb, complete with a quick attach 1.5 cubic yard rotating bucket, rotating grapple, and rotating blade for grading. We're based in Ottawa and rent our excavators all across the Ottawa Valley including Pembroke, Arnprior, Carleton Place and Orleans. We also rent excavators throughout South Eastern Ontario, including Kingston, Peterborough, Belleville, Smiths Falls and Cornwall.
Excavator Rental Rates
| | |
| --- | --- |
| Per Hour | Minimum |
| Please Call Greely at 613.821.3003 | 4 Hour |
Float move is extra.  Rental price includes a certified operator.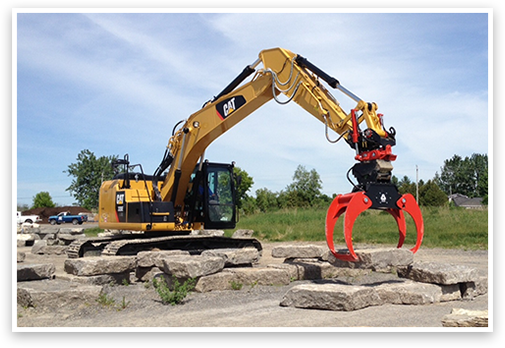 Greely's Equipment in Action!
Excavator Rental Ideal For
Grading
Backfilling
Digging
Basement Excavation
Armour Stone Wall
Contouring
Landscaping
Logging
Site Clearing
Major Customer Benefits for 320 CAT with Rototilt®
30-40% time savings on most jobs
Half the time doing residential basements and levelling
It angles, tilts and spins 360 degrees which really helps with grading and utility relocation
Contractors can now do with one machine what they used to do with two or three different machines
Light Demolition work – faster, cleaner, safer
Really shines on backfilling
Rototilt® reduces the number of labourers you need and no other product can do that
Two times faster on grading
Up to 75% savings on landscaping labour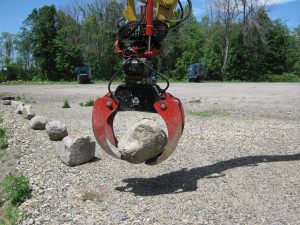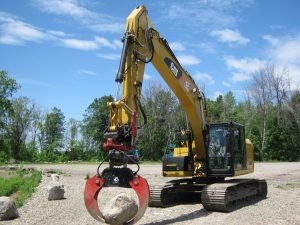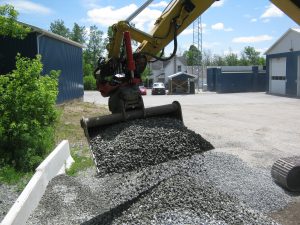 Ready to Rent or Have a Question?
If you're looking for an excavator rental with our without a Rototilt®, contact us today for any of our 300 series CAT excavators. We're also more than happy to answer any questions you many have.