Bioretention (Rain Gardens)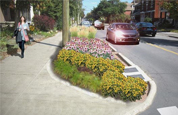 A bioretention cell, or commonly known as a rain garden, is an engineered, depressed landscape area designed to capture, filter, and infiltrate water.  Stormwater is treated by this custom blended mix by way of an attractive, aesthetically pleasing landscaped area.  Furthermore, irrigation can be reduced if the site runoff is taken advantage of correctly.
An example of a rain garden is along Sunnyside Ave, Ottawa.
For more information, contact Greely Sand & Gravel today.